Bahamas Trade Information Portal Contributes to 'Goombay Labs' Success
13 Dec 2017
Goombay Labs is on the road to success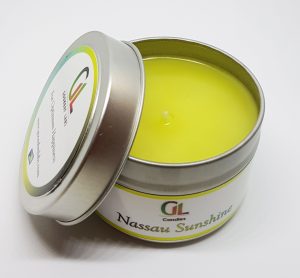 Small and medium-sized businesses face unique challenges on the road to success. With access to sound business information and the implementation of innovative strategies, however, entrepreneurs can overcome hurdles to growth and profitability. Premium candle manufacturer, Goombay Labs, is reaping rewards after only one year of business as a result of using a lean business strategy that involves tapping into the resources available on the Bahamas Trade Information Portal.
Goombay Labs is the brainchild of entrepreneur Travis Ferguson whose observations of how scented candles made people more upbeat, open and conversational led to its launch. The goal of the company is to spread "optimum happiness". After conducting research on his concept Ferguson applied his university training in Business Administration and Computer Information Systems to develop a line of premium hand-crafted scented candles.
Some of the company's irresistible scents include "Nassau Sunshine", "Lucayan Dream", and "Passion Fruit & Guava" which are available in 4oz and 8oz sizes. In addition to candles, Goombay Labs also manufactures organic lip balms, natural salt scrubs, and other items that can be categorized in the personal care market.
The company made sure risks were small and recoverable
As a young business person, Ferguson sought to keep his expenses at a minimum and decided against a brick and mortar establishment. Instead, he developed an e-commerce website that is backed by the Bank of The Bahamas' secure online platform. He also ensured that his risks were small and recoverable and designed his business so that it would be able to easily scale up or down to meet demand. Within five months of starting operations this strategy paid off and the company is now operating in the black.
Ferguson's success is also due in part to the resource-rich Bahamas Trade Information Portal. As he continued to grow the business concept and position Goombay Labs for export he was pleased to learn of the Portal when it launched in April of this year and quickly implemented elements of the Portal's 'Exporter Toolkit' throughout the company's operations.
"It was as if someone built my business for me. It was unbelievable. The Portal saved me a year. The Portal is fairly easy to navigate and is a great resource for any SME. The availability of the templates and other resources for general business planning and direction takes a lot of the legwork out of growing a business. Any entrepreneur or individual building an SME can use the Portal to set a firm foundation for their business," said Ferguson.
The Portal's Exporter Toolkit bolstered the company's operations
The Portal's Toolkit is full of practical tools, checklists, e-learning modules and more. By visiting the Portal at 'www.bahamastradeinfo.gov.bs' entrepreneurs can find information and tools in all areas of business development including: Accounting & Finance, Business Planning, Exporting, and Marketing & Sales just to name a few.
With the help of the Portal and a small dedicated team comprised of a few close friends and family, Ferguson has been able to address most of his business needs in-house. In instances where he has had to outsource he credits himself for using as many Bahamian companies in the production process as possible.
Ferguson encourages entrepreneurs to start small and be consistent while ensuring that they are skilled to manage every aspect of their business.
"The Portal has been instrumental in setting a strong foundation for the various aspects of my business. From technical assistance in understanding concepts in financing to developing the necessary documentation for various future departments to advice on business planning and marketing and sales; the Portal has been an excellent resource. I adapted heavily from the various templates provided to set the structure of my operations. I also benefited heavily from the marketing concepts provided," he added.
Bahamian businesses can be featured on the Portal at no cost
The Portal, a powerful tool for the business community and small businesses like Goombay Labs, is an online one-stop-shop intended to provide easy access to essential international business information and trade data. It also fosters insight on foreign market opportunities for Bahamian entrepreneurs and provides trade data on The Bahamas' exportable offer of premium products.
The platform contributes to the Government's overall objectives to diversify the economy, in line with the National Development Plan and also supports the ease of doing business for Bahamian business persons.
Presently, Bahamian businesses can be featured on the Portal at no cost by completing and submitting an Exporter Form that can be obtained by e-mailing 'tradeinfo@bahamas.gov.bs'.
The Bahamas Trade Information Portal is maintained by the Ministry of Financial Services, Trade and Industry, and Immigration and The Bahamas Chamber of Commerce and Employers Confederation as part of a public-private partnership.
Visit Goombay Labs' mini webpage for more information about the company: https://www.bahamastradeinfo.gov.bs/buy/company/goombay-labs/