The Government of The Bahamas to Hold Another Round of WTO Consultations
18 Feb 2019
Consultations to obtain private sector input regarding WTO membership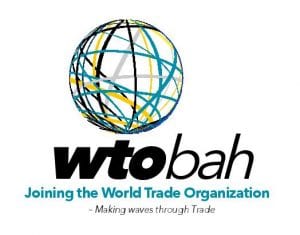 The Government of The Bahamas wishes to advise the business community that it will hold additional, industry-specific consultations to obtain private sector input regarding membership in the World Trade Organization. The consultations will be held from 18th to 22nd February, 2019 at the Ministry of Finance, Cecil Wallace Whitfield Centre, Cable Beach, 3rd Floor Conference Room.
The consultations will be industry-specific and are intended to inform the Government's negotiating position regarding responses received to date from WTO Members States concerning The Bahamas' Revised Goods and Services Offers, submitted to the WTO in September 2018. To that end, the input of the business community in this consultative process would be welcomed.
The Revised Goods and Services Offers can be viewed by clicking here or by visiting the Government's official website via www.bahamas.gov.bs.
Review the schedule to determine when consultations will be held for your industry
Please consult the consultation schedule here to determine the date and time that consultations will be held for your specific industry. Correspondence would have also been dispatched directly to the representative bodies listed.
If your business is a member of an association, please liaise with your association representative to coordinate the positions, concerns or questions of your particular industry.
Please feel free to contact the Ministry of Financial Services, Trade & Industry and Immigration for more information by phone at 328-5071-6.