The Creative Entrepreneurs Initiative
10 Mar 2023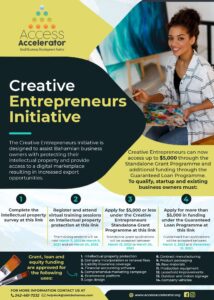 The Bahamas is rich in diverse talent and natural resources that should be leveraged to create more profitable and sustainable micro, small and medium-sized enterprises (MSMEs) within the Creative Industry.
The creative entrepreneurs initiative aims to provide intellectual property protection, a digital marketplace for exports and grant, loan and equity funding.
Kindly take a brief moment to read the programme overview below before applying>>
Creative Entrepreneurs Initiative
Click here to take the intellectual property survey.
Click here to apply for the Creative Entrepreneurs Standalone Grant Programme.
Click here to apply for the Guaranteed Loan Programme.
Click here to download the flyer.
For more information call 242.461.7232 or email: helpdesk@sbdcbahamas.com