The Bahamas Signs MOU with the African Export-Import Bank
23 Nov 2022
Afreximbank seeks to establish a Caribbean Exim Bank
NASSAU, The Bahamas — Prime Minister and Minister of Finance the Hon. Philip Davis said that the signing of a Memorandum of Understanding with the African Export-Import Bank (Afreximbank) marked "an historic moment for The Bahamas, the Caribbean, and the countries of the African continent".
"Under this agreement, The Bahamas joins other Caribbean states in establishing a partnership between countries in the region and the African Export-Import Bank," Prime Minister Davis said, during the signing, at his Office, on November 16, 2022 with Head of Trade and Corporate Finance/Intra-African Banking at Afreximbank, Ayman Elzoghby and other representatives and stakeholders.
Also present from the Bahamas Government were Minister of Foreign Affairs and the Public Service the Hon. Frederick Mitchell; Permanent Secretary at the Office of the Prime Minister (OPM) David Davis; Financial Secretary Simon Wilson; and Director of Investments at the Bahamas Investment Authority Phylicia Woods-Hanna.
"In keeping with its mission, Afreximbank seeks to expand its operation to Caribbean Member States through the establishment of the Caribbean Exim Bank which will provide services to the region, such as Trade and Project Financing, Export Development, Guarantees and Trade Information, and Advisory Services," Prime Minister Davis added.
The partnership will promote and finance 'South-South' trade
In other words, he noted, it will fill the gap in the region, for private-sector businesses seeking international funding, which was not readily available through the CDB, the Caribbean Development Bank, at that time.
"This partnership holds much promise," Prime Minister Davis noted.
"It provides for the promotion and financing of 'South-South trade' between African countries and Caribbean Member States," he added.
Prime Minister Davis said that provision was also made for financing exports and imports of non-traditional African goods and services, the provision of insurance, and guaranteeing service coverage for commercial and non-commercial risk associated with African exports and imports.
Member states will also support the Bank in acting as an intermediary between African traders and traders of the Caribbean Community, and facilitate and support the execution of banking operations and the borrowing of funds, he pointed out.
"Afrexim Bank has also indicated that once the regional office has been established that it envisaged committing an investment of US$700 million in the Caribbean," Prime Minister said.
"Ultimately, the CARICOM Community will be able to unlock further economic and social benefits at a critical time when so much support is needed."
Source: Government of The Bahamas
**********************************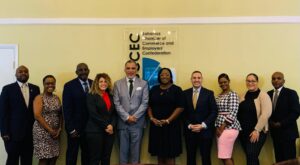 In a separate meeting, the Bahamas Chamber of Commerce and Employers' Confederation also met with representatives of the African Export-Import Bank.