The 2020 Annual Foreign Trade Statistics Report
3 Feb 2022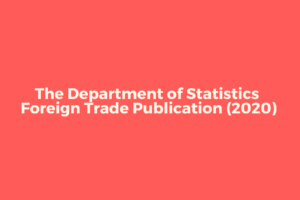 The
below
publication presents data on the value and volume of trade between The Bahamas and the rest of the world. It contains a five year series of summary data to provide an historical view of trade for The Bahamas during that period. Detailed tables (both annual and quarterly) of the year 2020 are presented in order to provide an in depth view of trade for that year.
2020 Annual Trade Data Highlights
Domestic exports ($159.9 million) accounted for 42.3% of total exports. The major groups main contributors to domestic exports were the categories of 'Food & Live Animals' totaling $71.4 million (44.6% of total domestic exports), and 'Chemicals' totaling $57.6 million (36.0% of total domestic exports) (Table 2.3).
The commodities that contributed mainly to domestic exports were, 'Spiny lobsters tails' valued at $55.2 million, 'Blocks and shape moulding & beads expansinle polystrene' at $55.0 million, 'salt Liquors sea water' at $8.2 million. The combined value of commodities totaled $118.4 million, which accounted for some 74.0% of total domestic exports.