In Jamaica, Jeffrey Town residents own Disaster Risk Reduction Programme
26 Jun 2017
One hundred residents of Jeffrey Town, St. Mary attended a recent meeting to discuss strategies aimed at reducing the effects of natural disasters on their communities.
"Having interacted with the community over the last few days and seeing them fulfill their commitment to participate in this meeting, shows that if the community is effectively engaged, wider citizen participation in community development initiatives can be achieved," said Richardo Aiken, Community Development Specialist, Caribbean Disaster Risk Reduction Fund (CDRRF), Caribbean Development Bank.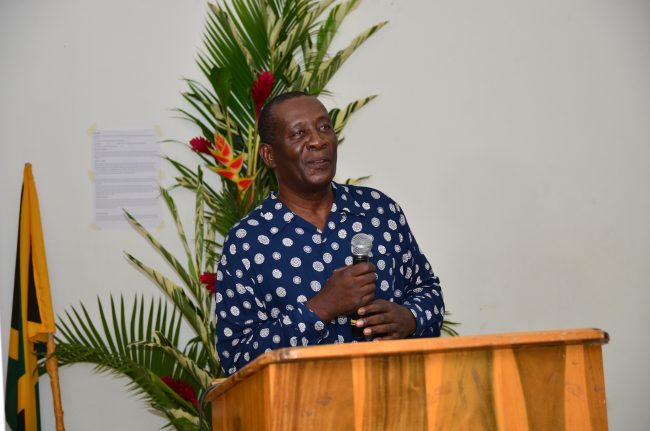 Chairman of the Jeffrey Town Farmers Association,
Mr. Wordsworth Gordon
Chairman of the Jeffrey Town Farmers Association Limited, Wordsworth Gordon, said the attendance was "encouraging," since similar past meetings have attracted a much smaller number of participants.
Shawna-Kay Brown-Kennedy, a resident of Jeffrey Town, said she had to be at the meeting as she has a keen interest in community development.
"It [the project] has been good to the youth population of the community, as they were provided with jobs, and training in different areas," she said.
The meeting was held to present findings from a survey designed to obtain the views of the residents on the Jeffrey Town Integrated Disaster Risk Reduction Project (JTIDRRP).
The JTIDRRP is a two-year initiative that commenced in 2015, and is financed by the CDRRF, which is managed by the Caribbean Development Bank.
The Project has been building resilience to the effects of natural hazards and climate change in communities within the Jeffrey Town area. It has also supported infrastructure development, improvements in food security, an increase in income-generating activities, as well as the implementation of disaster risk reduction and climate change public education and awareness campaigns.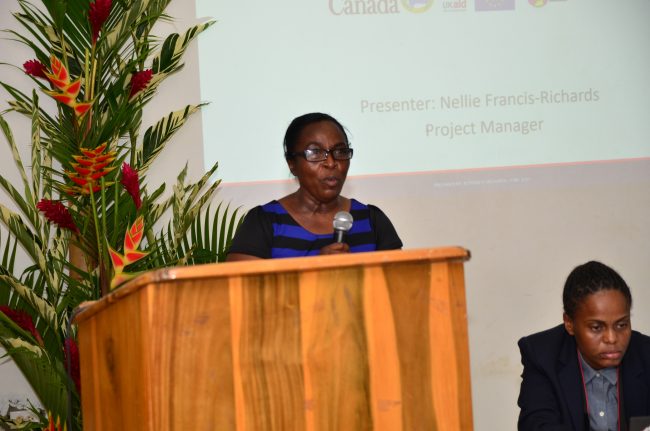 Project Manager of the JTIDRRP, Mrs. Nellie Richards
Project Manager of the JTIDRRP, Nellie Richards, says she is particularly pleased with the water management committees that have been established.
"Residents are already beginning to show ownership, and the level of pride and enthusiasm indicates that they will aid in the Water Catchment Committees being sustained," she said.
The Project also included several training sessions for residents in first aid and fire management.
Richards said the training programme is one of the most successful aspects of the project.
"It's investment, it's capacity building, it's community development, and that will be sustained," she said.
Resident, Nastassia Williams, was bursting with pride, as she held certificates she received for participating in the training programmes.
"Mi learn a whole heap, and if it comes to the test [cases of emergency], I can teach others and help out in CPR, or putting out a fire," she said.
The post In Jamaica, Jeffrey Town residents own Disaster Risk Reduction Programme appeared first on Caribbean Development Bank.
Read full article at Caribank