Final presentations reveal big ideas
2 May 2017
On April 28, the third and final day of the Caribbean Bank Development's (CDB) VYBZING Youth Forum closed with presentations by, and awards to, participants.
Some admitted that they were a little nervous about going before an expert lineup of judges, which included John Rutherford, Chief Executive Officer of Invest Turks and Caicos, Orieka Selver, legal counsel for Invest Turks and Caicos and the Forum's facilitators, Dr. Jo-anne Tull and Dexter Musgrave.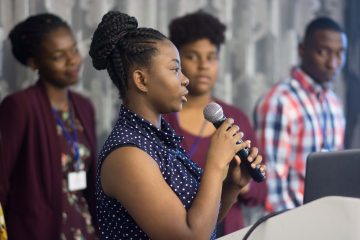 For three hours, five groups sold their mock business ventures to both the judges and the audience, which included Minister of Education, Hon. Josephine Connolly and Director of Education, Edgar Howell.
Participants presented ideas such as hosting a Turks and Caicos Fashion Week; creating an entertainment club scene for creatives to showcase their talent; producing a "Boombashay Festival", which promised to be bigger than any event ever staged in the TCI; and developing an app designed for local writers on which they could share their work with the world.
Angela Parris, Manager, Information Services Unit, CDB, said the group of participants showed impressive growth.
"We met them on Wednesday morning; they we're a bit shy but they showed dedication, they showed commitment and they showed lots of energy. To do what they did in three days, was really amazing," said Parris.
Lenkensey Missick was recognised as the most outstanding team leader and Ivena Spencer, leader of "The Millennials" team was named top performer of the Forum. Both were presented with self-help books, personally selected by the presenters, to reward their demonstrated and excellent leadership skills.
The winning team, which called themselves, "The Millennials", was awarded a cash prize of USD1,000 for their concept of an app-based writers' platform.
The VYBZING Youth Forum, themed "Start Up and Stand Up: Promoting Creative Entrepreneurship among the Youth", was organised by CDB, in partnership with the Ministry of Education, Youth, Sports and Library Services, Centre for Entrepreneurial Development, and Invest Turks and Caicos.
The event ended with a dinner at which the awards were presented.
The VYBZING Youth Forum took place April 26-28, 2017 at Beaches Turks and Caicos Resort Villages & Spa, Providenciales.
Read the recap of Day One activities
The post Final presentations reveal big ideas appeared first on Caribbean Development Bank.
Read full article at Caribank