CDRRF donors conclude successful Jamaica sub-project supervision visits
18 Apr 2017
Two of the three donors of the Community Disaster Risk Reduction Fund (CDRRF) jointly paid supervision visits to the two CDRRF sub-projects in Jamaica from March 20 to 21, 2017. Global Affairs Canada and the United Kingdom Department for International Department (DFID) visited the Jeffrey Town Integrated Disaster Risk Reduction Project in St. Mary and the Trinityville Area Integrated Land Management and Disaster Risk Reduction Project in St. Thomas.
Site Visit to Top Road Catchment Basin in Jeffrey Town. (Left to right) Ms. Hilda Townsend, Executive Member, Jeffery Town Farmers Association Ltd., Ms. Jane Palmer, First Secretary, Global Affairs Canada, Mr. Leighton Waterman, Senior Programme Officer, DFID and Mr. Wordsworth Gordon, President, Jeffrey Town Farmers Association.
The decision to visit the sub-projects was made following the sixth meeting of the Trust Fund Steering Committee of CDRRF, which was held on February 15, 2017. During the discussion, Mr. Leighton Waterman, Senior Programme Officer – Climate Change and Disaster Risk Reduction Team, DFID informed participants that the final disbursement date for the Department's funding for the CDRRF project, was March 31, 2017. As such, he mentioned, it is customary for DFID to undertake visits to the projects funded to gather information required for the preparation of the Project Completion Report. Mr. Waterman stated that this would be done in March 2017. Miss Jane Palmer, First Secretary, Global Affairs Canada also indicated her organisation's interest in participating in the proposed visit to the projects under implementation in Jamaica.
Both sub-projects seek to enhance the hazard resilience of their respective communities by focusing on community-led interventions that:
aim to improve land management and farming practices, and
enhance community infrastructure to better withstand the impacts of natural disasters and resilience to climate change related events.
The two-day agenda comprised informational meetings with Executive Committee Members, Project Management Teams and Project Steering Committees of the Jeffrey Town Farmers Association Limited (JTFAL) and the Trinityville Area Development Community Benevolent Society. Discussions were also held with sub-project beneficiaries such as farmers, potential beneficiaries of the water catchment and tank storage component of the Jeffrey Town Project, and students and teachers at the Wallingford Primary School, which is also an Emergency Shelter.
Mr. Wordsworth Gordon, President, JTFAL, facilitated visits to the project sites in Jeffrey Town. The delegation was able to see firsthand community catchment structures, infrastructural upgrades to the Wallingford Primary School, a demonstration plot, replication farms, and the JTFAL food processing facility building renovations and improvements that aim to improve the efficiency of its food processing ISO certification. The team also saw a community gabion wall and the Green House, which are under construction.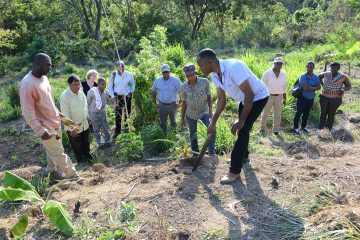 Proper pineapple sucker planting methodology being ably demonstrated by Mr. Sheldon Scott, Deputy Parish Manager, St. Thomas, Rural Agricultural Development Agency (RADA) at Mr. Deon Somers' farm located in George Piece, Hillside, Trinityville. (1st left to right)
Mr. Abid Aslam, Project Manager and Ms. Joan Buchanan from the Executive Committee, TADCBS facilitated visits to the Trinityville Project, during which the focus was the Community Centre/Emergency Shelter in Danvers Pen that is to be rehabilitated; the gullies in Mount Lebanus that are to be improved; and farmers who received planting material that was used to make contours on their plots.
CDRRF welcomed this Donor-led supervision visit and views it as critical at a time when stronger coordination and partnership among donors are especially critical to accelerating progress on achieving the Sustainable Development Goals.
It is anticipated that there will be further joint visits to CDRRF projects that are under implementation. During such visits, donors will have an opportunity to gather information and data for monitoring and evaluation, and for documenting the lessons learned from the projects.
CDRRF is multi-donor trust fund established by the Caribbean Development Bank (CDB) in March 2012 with resources being provided by the Government of Canada acting through Global Affairs Canada, the Government of the United Kingdom of Great Britain and Northern Ireland acting through DFID and the European Union through resources provided to CDB under the African Caribbean Pacific-EU-CDB Natural Disaster Risk Management in CARIFORUM Countries project.
The post CDRRF donors conclude successful Jamaica sub-project supervision visits appeared first on Caribbean Development Bank.
Read full article at Caribank