CDB hosts Procurement Seminar, a first for CDRRF Project
26 Jun 2017
A Procurement Seminar for private sector providers of goods, works and consultancy services was held on Thursday, May 11, 2017 at the HUMANA People to People Belize (HPPB) Project Office in Bella Vista Village, Toledo District, Belize. This seminar was a component of the recently launched 'Building Adaptive Capacity and Resilience to Climate Change in Toledo Southern Belize Project' and it was facilitated by Mr. Douglas Fraser, Head, Procurement Policy Unit at the Caribbean Development Bank (CDB).
Humana People to People Belize has been awarded a grant to support the implementation of this project which focuses on building the resilience of 11 villages in Southern Belize to natural hazard risks, the implementation of climate change adaptation measures and increasing public education and awareness. Financing for the Project is being provided by the Community Disaster Risk Reduction Fund (CDRRF) which is managed by CDB.
Project Manager, CDRRF, Ms. Claudia James welcomed participants and noted, "This Procurement Seminar is indeed truly groundbreaking for us, as it is the first one to be hosted by CDRRF for a sub-project". She encouraged the participants to share their comments, opinions and pointers with the facilitator to ensure that their concerns and questions were addressed.
Project Manager, HPPB, Mrs. Elizabeth Muschamp presented an Overview of the HPPB Project and the Procurement Opportunities: Goods and Works and Consultancies that will be available over the two-year implementation period.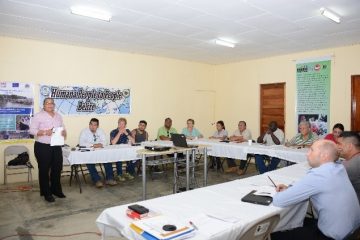 Mrs. Elizabeth Muschamp, Project Manager, HPPB, presenting an Overview of the HPPB Project
Head, Procurement Policy Unit, CDB Mr. Douglas Fraser, facilitated the Procurement Seminar. He noted that one of CDB's strategic objectives focuses on promoting good governance. To this end, the Bank supports the development of procurement capacity and regards fairness, efficiency and transparency in its Borrowing Member Countries (BMCs) as critical to maximising the use of scarce resources and achieving the intended development outcomes of projects such as the one being implemented by HPPB.
Mr. Fraser presented information on CDB's Procurement Guidelines to the targeted audience who comprised private sector contractors and consultants from Bella Vista Village, Toldeo District and Belmopan, as well as representatives from the Belize Association of Planners and the Association of Professional Engineers of Belize.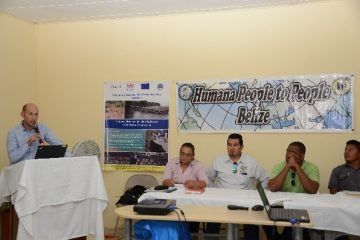 Mr. Douglas Fraser, Head, Procurement Policy Unit at CDB facilitating the Procurement Seminar
Country Director, Humana People to People, Belize, Ms. Susanne Jensen pointed out during her Closing Remarks that the community of Toledo is excited that the project has been launched and all the stakeholders are ready to deploy their skills, experience and knowledge to make the project truly impactful and sustainable for the residents in the 11 target villages.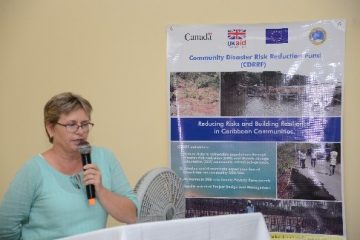 Ms. Susanne Jensen, Country Director, Humana People to People, Belize, making the Closing Remarks.
CDRRF is a multi-donor Trust Fund facility with resources from Global Affairs Canada and the European Union. The purpose of the Fund is to finance, through the provision of grants, disaster risk reduction, climate change adaptation, and capacity-building initiatives at the community level. These initiatives focus on reducing vulnerabilities and building resilience to the impacts of natural hazards across BMCs of CDB.
The post CDB hosts Procurement Seminar, a first for CDRRF Project appeared first on Caribbean Development Bank.
Read full article at Caribank