Online Presentation: CARICOM-Colombia Trade Agreement
17 Feb 2022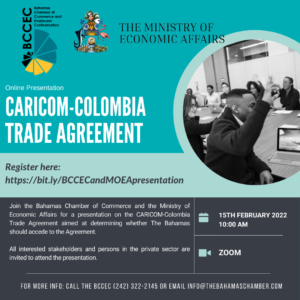 On Tuesday, February 15th, 2022, the Bahamas Chamber of Commerce and Employers' Confederation, alongside the Ministry of Economic Affairs (MOEA) hosted an informational webinar on the CARICOM-Colombia Trade Agreement aimed at determining whether The Bahamas should accede to the Agreement. This webinar featured a presentation from Mrs. Brickell Pinder, Director of Trade and Industry Unit, and her team at the MOEA.
Click here to watch the recap of the webinar.
A questionnaire was also drafted to gauge the interest of stakeholders in the joining the Trade Agreement with Colombia. This questionnaire contains ten (10) questions. The responses to this questionnaire will be shared with the Government of The Bahamas.
Click here to complete the questionnaire.