Monthly Revenues Increase 40.8 Percent Over Prior Year
21 Apr 2022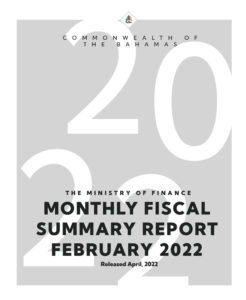 The Ministry of Finance is pleased to release its second monthly fiscal report on Government's operations for the month of February 2022, as mandated by the Public Finance Management Act, 2021.
During the month of February 2022, revenues declined by 16.2 percent ($38.2 million), compared to the prior month, to $197.4 million, in line with seasonal trends. However, monthly revenue performance increased by 40.8 percent ($57.2 million) compared to the same period of the prior year. Conversely, expenditures contracted by 4.4 percent ($10.7 million) to $230.5 million during the month, an increase of 10.1 percent ($21.2 million) over the prior year.
Visit the national Budget Website for more information
As a result of activities, a deficit of $33.1 million was realized for the month, approximately 52.0 percent ($35.8 million) lower than the same period of the year prior. For the eight months end- February 2022, the deficit is estimated at $326.5 million and 38.0 percent of budget, a 62.2 percent ($537.2 million) reduction in the $863.7 million deficit experienced during the prior year's period. To support operations, Central Government's net debt widened during the month by $181.3 million and $428.8 million for the eight months end-February 2022 as compared to a $1,291.3 million net debt increase during the same period of the prior fiscal year.
The Ministry invites and encourages the public to visit the national Budget Website (www.bahamasbudget.gov.bs) to view the various statistical reports available to the public or click here to download the reports.