Minister Strachan meets with ITC on the Trade Information Portal
17 Jan 2017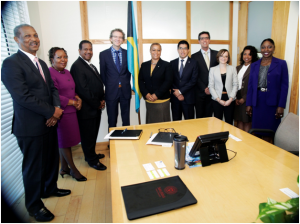 The Minister of Financial Services, the Hon. C.V. Hope Strachan met with officials of the International Trade Centre ("ITC"), a specialised joint agency of the World Trade Organization and the United Nations, on Tuesday, 8th November, 2016 to discuss the development of a Trade Information Service Desk and Electronic Portal (the "Portal") for The Bahamas.
The establishment of the Portal is a part of the Government's ongoing efforts to diversify the economy by expanding trade with regional, hemispheric and international trading partners.  Currently, a Bahamian entrepreneur seeking to export his or her product to a foreign market will have to sift through an excessive amount of information to find reliable trade information on The Bahamas that would guide him or her as to how to export that product. This makes doing business with The Bahamas difficult and expensive.
The intention of the Portal is to create a "one-stop-shop" to access important national, regional and international trade information such as export/import statistics, information on trade regulations (e.g. quality requirements and standards, certification requirements and rules of origin), as well as shipping information, company profiles and key information on trade agreements. The Portal will serve as an important business facilitation tool by reducing the cost and time required to access trade information, and in turn improve the ease of doing business in The Bahamas.
With grant funding provided by the European Union through the technical assistance component of the CARIFORUM-EU Economic Partnership Agreement (the EPA), the Ministry of Financial Services, in collaboration with the Bahamas Chamber of Commerce and Employer's Confederation, has undertaken an initiative to establish the Portal by the first quarter of 2017. In that regard, ITC through a bidding process won the contract to design and develop the Portal.
From 4th to 11th November, 2016, ITC officials visited The Bahamas to hold intense consultations with both public and private stakeholders to obtain feedback for the design and development of the Portal. The team made a a courtesy call on the Hon. C.V. Hope Strachan M.P., Minister of Financial Services on Tuesday, 8th November, 2016. Also attendance was the Chairman of the Bahamas Trade Commission, Mr. Philip Galanis.  Minister Strachan who has ministerial responsibility for international trade and light manufacturing under the Industries Encouragement Act robustly welcomed the ITC officials, highlighting the importance of the Portal in creating an enabling environment for the local business community.  The Minister committed the full support of her Ministry to the project.