Minister Strachan meets with BKP to discuss Vulnerability Study on Trade Liberalisation
17 Jan 2017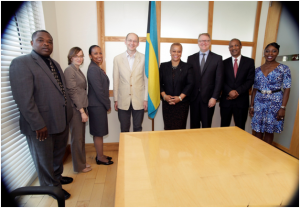 The Minister of Financial Services, the Hon. C.V. Hope Strachan met with Consultants from BKP Development Research and Consulting, an economic research and consulting firm based in Germany, and the World Trade Institute, an academic institution based out of the University of Bern, Switzerland, on Thursday, 8th December, 2016 to discuss the development of a vulnerability study to assess the potential impact of trade agreements on the Bahamian economy.
In October, 2008, the Government signed the Economic Partnership Agreement (EPA) with CARIFORUM Member States (CARICOM Member States and the Dominican Republic) and the European Union (EU). The Agreement represents the first negotiated reciprocal trade agreement for The Bahamas and addresses trade in goods and services, investment, trade-related issues such as innovation and intellectual property, as well as links to development cooperation.
It is anticipated that the EPA should assist the private sector in accessing export markets in Europe and the wider Caribbean, and also provide preferential access for European goods and services to CARIFORUM markets. Additionally, the Government is currently in the process of negotiating membership to World Trade Organization, which will require compliance with a number of trade agreements.
While cognizant of the benefits that trade agreements may provide for The Bahamas, the Government is also mindful of the potential impact that such agreements may have on vulnerable sectors of the Bahamian economy. As such, the Government, through the Ministry of Financial Services, which has responsibility for international trade, has retained the services of BKP Consulting, headed by lead Consultant Dr. Derk Bienen, and Professor Pierre Sauvé of the World Trade Institute to identify those sectors of the Bahamian economy which may benefit from trade liberalization and those sectors which may be the most vulnerable to trade liberalisation and to provide advice on the various policy options that the Government may deploy to address those vulnerabilities.
The Ministry of Financial Services organised consultations with a cross section of public and private sector stakeholders from Thursday 8th December, 2016 to Tuesday, 13th December, 2016 to discuss the study being undertaken by BKP Consulting. While in The Bahamas, the Consultants also met with officials of the National Development Plan Secretariat, as the Government seeks to finalize Vision 2040, the National Development Plan of The Bahamas.  The Consultants are also collaborating with a team of faculty at the University of The Bahamas.