Micro and Small Business Economic Empowerment Entrepreneurial Incentive Programme
10 Jan 2018
Twenty young people were presented with business grants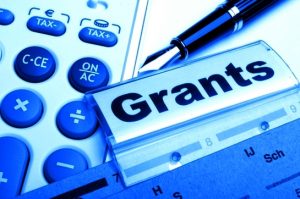 Twenty young people have been awarded grants for new start-up businesses and for existing companies seeking to expand their operations in Grand Bahama.
Minister of State for Grand Bahama Kwasi Thompson and Minister of Youth Sports and Culture Michael Pintard announced the winners and presented them with grants at the Office of the Prime Minister in Freeport last week.
Five start-up businesses received grants
The business grant winners are from the first session of the Grand Bahama Micro & Small Business Economic Empowerment Programme launched by Prime Minister Hubert Minnis on November 24th.
One of the self-starters grant recipients is Victoria Robinson, of Divine Eggs. Her vision is to establish an egg farm and chicken hatchery to produce pasture-raised eggs using cage-free chickens. Ms. Robinson has a small production facility that currently provides 30 dozen eggs per month, and has secured a letter of intent from a major food store for the purchase of the eggs.
Wilson Joseph, of Island Harvest, will produce fresh organic vegetables with a focus on green bell peppers, tomatoes, hot peppers, cabbage, and thyme.
Other recipients include Gabrielle McIntosh, of 700 Gems, a marketing and consulting firm; Timico Nelson of Green Light Tropical Farms, who proposes to produce native fruits and Jezel Gray-Knowles of Sweet Addiction Cafe, who aims to establish a cafe and specialty bakery.
Fifteen existing companies were given awards
The business evolution recipients are: Crystal McIntosh of Treat Me Sweet Cake Studio; Madelyn Bowe of Bowe's Tailoring; La'Travalia Williams of Wing Ding; Edwin Deveaux of GullyWash Drink Stand; Anthea Lewis of At Your Pace Tours; Jonathan Bowleg of Super Jerk Pit & Grill; Donald Duncombe of Grum Ma's House Cultural Centre; Rochelle Dickenson of Try Sum 'N' Different Cafe; Stacy Rolle of Stacy's Straw Shop; Shanaad Forbes of KSS Distributors; Veliante Grant of Copyright Copy Centre; Toquell Lightbourne of Timeless Photography; Zania Bowleg of The Snack Shack Convenience Store; Chassarie Bullard of Chaebul Crafts & Gifts; and Charlene Armbrister of CPA Bahamas (Crafts).
Mr. Thompson said the five young entrepreneur self-start grant winners would launch new business ventures and the 15 business evolution grant winners already own existing businesses that they intend to grow.
He described the programme as one that is "bringing dreams to life."
The business empowerment programme has three phases
Phase I of the programme is a two-week Business Readiness Training Course designed to expose start-up entrepreneurs as well as existing business owners to fundamental skills and tools in business management best practices aimed at preparing them for the running of successful business operations.
Phase II allows each qualifying candidate the opportunity to compete with their business classmates for a chance to win an available business grant of up to $5,000 for start-up or expansion of their business idea.
In Phase III, each successful grant winner is paired with a seasoned business mentor, who will provide expert advice and guidance for their start-up or existing business venture over the course of the upcoming weeks.
The next session of the programme begins January 15th
Mr. Thompson said the small business grant programme would be ongoing with some sessions throughout the year. The next session is scheduled to run January 15- 26 and persons are urged to register by picking up applications at the Office of the Prime Minister, Grand Bahama, and the Ministry of Youth, Sports & Culture.
Check out the Portal's Exporter Toolkit to help grow your business.
Source: The Tribune