19 Dec 2018
As The Bahamas negotiates WTO accession, we have one aim: advance our nation's interests. Our negotiations are being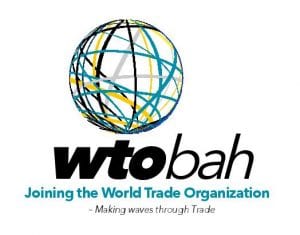 informed by the Bahamian business sector, Bahamian private sector experts and Bahamian public sector technical experts — all of whom seek to build a stronger Bahamas for generations to come. Unfortunately, this accession process is also subject to many false and misleading statements. We want you to know the facts.
WTO ACCESSION DOES NOT INCLUDE THE FREE MOVEMENT OF PEOPLE
The WTO is not a single market or economy. So WTO membership is not similar to membership in the Caribbean Single Market & Economy (CSME) or membership in the European Union— both of which include free market conditions and the free movement of citizens of countries which are party to such agreements. The WTO is concerned with the regulation of trade in goods, services, investments and intellectual property by providing a framework for negotiating trade agreements. For example, a citizen of Australia cannot arrive at the border of China and demand entrance and permission to work freely simply because both countries are members of the WTO.
THE BAHAMAS WILL NOT BE FLOODED WITH FOREIGNERS
WTO guidelines are only relevant to trade and do not deal with immigration issues regarding citizenship, permanent residency or employment on a permanent basis. The Bahamas' immigration and labour laws remain unchanged. WTO rules only deal with the temporary entry of foreign Workers to fulfill a specific commercial activity. Even then, the Government determines the conditions under which temporary entry may be granted.
INCREASING EXISTING TAXES AND/OR INTRODUCING NEW TAXES IS NOT THE ONLY WAY TO OFFSET GOVERNMENT REVENUE LOSS
WTO accession will indeed require the lowering of customs duties at the border. The resulting decrease in Government revenue will need to be replaced. To recoup any revenue losses, the policy considerations for the Government include: growing the economy; finding alternate sources of revenue; and increasing existing levies or reducing existing tax concessions and subsidies. A review of the existing concessionary regime is contemplated in the near future as the Government currently gives away nearly 53% of custom duties in exemptions and concessions.
THE BAHAMAS WILL BE ABLE TO PROMOTE ITS LOCAL INDUSTRY
WTO rules do not expressly prohibit economic programs aimed at promoting the development of local industry. For example, the financial assistance provided to domestic businesses under current concessionary regimes (the Tariff Act, the Industries Encouragement Act, etc.) do not violate WTO rules. The Bahamas intends to continue offering assistance through its concessionary regimes which are industrial development programs.
RETAIL GIANTS, SUCH AS WALMART, WILL NOT ENTER THE BAHAMIAN MARKET AND DISPLACE BAHAMIAN BUSINESSES
A country cannot be forced to allow any company to do business in its territory. Concerns that retail giants like Walmart will set up shop in The Bahamas may be overstated for two reasons: (1) a small, dispersed population and high operation costs may not make The Bahamas a viable market for retail giants; and (2) the rise of the digital economy means that retailers are moving away from brick and mortar establishments and offering services online. However, current competitive threats exist as a result of globalisation and technological innovation and are outside the scope of WTO rules. For example, the recent surge of internet-based competition from foreign companies is already a reality for Bahamian retailers.
WTO ACCESSION IS MORE BENEFICIAL THAN NEGOTIATING BILATERAL TRADE AGREEMENTS WITH OUR MAJOR TRADING PARTNERS
All of our major trading partners are WTO members and will seek to ensure that bilateral trade agreements are based on WTO principles. Given the small size of The Bahamas and our limited bargaining power when negotiating with a much larger economy, we would not be able to draw the support of other like-minded countries and would have less negotiating leverage in a bilateral context. So a bilateral negotiation may require The Bahamas to make much deeper commitments than it would in the context of WTO accession. This disparity in bargaining power makes The Bahamas more vulnerable to higher demands in a one-on-one negotiating setting.
THE GOVERNMENT IS NOT BEING FORCED TO JOIN THE WTO
The WTO is a voluntary organisation. The Bahamas is a sovereign nation. We consider WTO accession as an important tool to modernise the country's trade regime, therefore creating a more open and competitive economy to stimulate economic growth and development. In accordance with WTO-agreed rules, The Bahamas can withdraw from the accession process at any time. And if we accede, we can withdraw from the WTO at any time.
SO, HOW WILL YOU BENEFIT FROM WTO ACCESSION?
 MORE EXPORT OPPORTUNITIES. As a member of the WTO, Bahamian exporters will gain greater access to world markets. Exports of our agriculture, fisheries, crafts, arts, music and manufactured goods will benefit from access to global markets.
 HIGHER EMPLOYMENT. Employment will increase as domestic and international businesses expands.
 BETTER INCOME. As The Bahamas trades on its competitive advantages, our economy will grow and become more efficient. This will lead to the creation of more sophisticated jobs with above-average income.
 LOWER COST OF LIVING. WTO membership will result in lower duties on imported goods. This will lead to lower prices in stores. Businesses will face heightened pressures to pass savings on to you because the Government will enact competition laws and policies and you will have greater access to information.
 MORE CHOICES. You will have access to a greater variety of quality products as there will be fewer restrictions and limitations on trade.
 IMPROVED GOVERNMENT SERVICES. WTO guidelines call for competition safeguards, intellectual property rights protections, food standards, transparency and consultation—which will require the Government to adopt new and more efficient processes.
 BETTER TRADE PARTNERSHIPS. WTO membership will create clearly defined rules for doing business. Bahamian businesses will have safeguards against discrimination and unfair practices when operating in WTO member countries. In the event of disputes, Bahamians will have access to the WTO's dispute settlement mechanism.
 STRONGER TRADE RELATIONSHIPS. WTO membership helps create certainty and cooperation among members. This will strengthen The Bahamas' alliances and help us work better together, to create shared prosperity.
For additional FAQs and information on the WTO and The Bahamas' accession process, visit
• Ministry of Financial Services, Trade & Industry and Immigration www.bahamasministryoffinancialservices.com
• Bahamas Trade Information Service Portal www.bahamastradeinfo.gov.bs