Intellectual Property Webinar Series
6 Aug 2020
When it comes to intellectual property, understanding the role it plays in developing your brand and how to monetise your intellectual property, can be key to your businesses success.  Caribbean Export has partnered with CarIPI to deliver these two informative webinars.
The Role of Intellectual Property in Developing Your Brand
What role does intellectual property play whilst developing your brand?  This webinar, scheduled for Tuesday, August 11th from 12:00 pm – 1:30 pm led by Ms Erica Smith PhD, Consultant, Intellect Management Services Inc will focus on:
How do you create brand values?
Key IP tools to use
Using IP to create brand value
Protecting brands from theft – practical examples
Creating your brand from the inside out using IP – (from prior CE webinar presentation – look at building the brand – reputation, culture, emotions, look and feel)
Needs to be very practical using relevant case studies – concepts such as co-branding
This webinar is provided in collaboration with CarIPI.
Register here: https://bit.ly/3idAP9J
Monetising Intellectual Property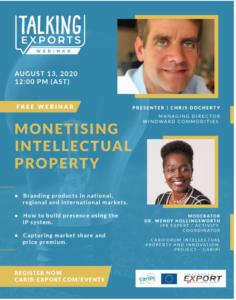 This webinar, scheduled for Thursday, August 13th from 12:00 pm – 1:30 pm will walk participants through how specific commodities from within the region and the world have been able to brand their products in national, regional and international markets and discuss how MSMEs can use the IP system to build brand presence, capture market share and price premiums.
Presenter: Mr Chris Docherty, Managing Director, Windward Commodities
This webinar is provided in collaboration with CarIPI.
Register here: https://bit.ly/31u0Sm7
Source: Caribbean Export