Expo Jamaica – Buyers' Days

27 Apr 2023 – 28 Apr 2023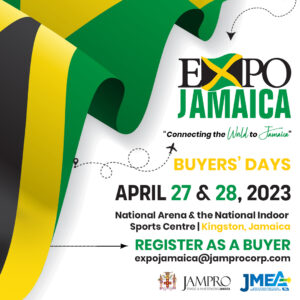 EXPO Jamaica is back! The largest tradeshow in the English-speaking Caribbean will again take place, and they look forward to seeing you.  Expo Jamaica 2023 is scheduled to be held from April 27 – 30, 2023 at the National Arena and the National Indoor Sports Centre under the theme "Connecting the World to Jamaica".  
The first 2 days (April 27 & 28, 2023) are reserved exclusively for buyers. This provides you with the opportunity to meet our manufacturers and service providers and explore all available options for doing business.  They are eager to meet with you to negotiate the best possible deals.
There is no cost to you as a buyer to enter the show. Discounted accommodation at major local hotels is being arranged and there will be a shuttle service from the hotel to the venue.
If you have any questions or need assistance, please do not hesitate to contact Odell Marsh at  expojamaica@jamprocorp.com. Please use the following link to register for the event.
Buyer Registration: https://www.expojamaica.com.jm/. Remember to register early.
You can also click here to download the Buyer Registration form.
Click here to download the Flyer.
Looking forward to welcoming and meeting you at Expo Jamaica 2023.