Caribbean Trade Review 2022, Virtual

29 Nov 2022 – 29 Nov 2022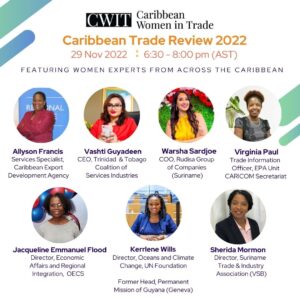 Join the Caribbean Women in Trade (CWIT) on Tuesday, November 29th from 6.30 – 8.30 pm for this timely event.
CWIT is a newly formed organization whose members are women from across the Caribbean working in or interested in any area of international trade. The organization also welcomes men who support CWIT's mission – "to foster a community that supports the advancement of Caribbean women in international trade."
Its activities include the creation of a platform where persons can identify and create connections which seek to support Caribbean women involved in trade and international business; networking events which will first and foremost allow Caribbean women in international trade to meet regularly and to build meaningful and supportive relationships; and educational and training events on trade-related topics of importance to the Caribbean region.
Click here to register.