Business Opportunities in the Caribbean Region Conference
23 May 2018
The Conference focused on six markets in the Caribbean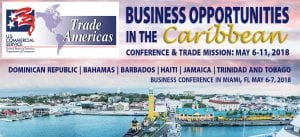 On May 7th, the Hon. Brent Symonette, Minister of Financial Service, Trade and Industry, and Immigration delivered the Keynote Address at the "Business Opportunities in the Caribbean Region Conference" in Miami, Florida.
The Conference focused on six markets in the Caribbean region, namely, The Bahamas, Barbados, Dominican Republic, Haiti, Jamaica, and Trinidad and Tobago, and allowed attendees to:
Gain market insights,
Make industry contacts,
Solidify business strategies,
Advance specific projects, and
Identify potential partners.
Minister Symonette's Keynote Address
Good afternoon Ladies and Gentlemen,
I am pleased and honoured that I have been invited to bring the keynote address at what I am advised is the first annual "Business Opportunities in the Caribbean" Conference.
I noted with interest the presentation of Mr. Jerry Butler. He would have highlighted some of the challenges faced by the region- our small open economies, our lack of economies of scale, our high vulnerabilities to external debt, logistical challenges, susceptibility to natural disasters, our unemployment and underemployment, our experiences with brain drain and the need for technological modernization. The most recent challenges facing the region are the issues of de-risking, blacklisting, and loss of correspondent banking. While crime is an ongoing challenge not only in the region but the world generally, the governments of the region continue to apply significant scarce resources to address crime, resources which might otherwise be applied to other social and economic programmes for our countries.
However, even within these challenges we face, Mr. Butler noted positive prospects for the region which many of you would be most interested in. He noted some of the opportunities which the governments of the region would be most interested in, opportunities in the creative industries-music, film and fashion, opportunities in the tourism sector, alternatives to banking and financial services, opportunities in the blue economy-marine and aquaculture, biotechnology, medical research and educational export just to name a few.
I thought I should take advantage of this opportunity to also update you on what is happening in The Bahamas as the Government seeks to attract investment to our shores.
I want to demonstrate for you today that The Bahamas can be an extremely attractive trade and investment partner for the region – and not just in financial services, but across a range of other products and services opportunities.
To read the address in its entirety click here.