Access Accelerator SBDC – The Renewable Energy Initiative
2 Feb 2023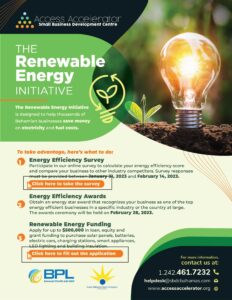 The Access Accelerator – Small Business Development Center (SBDC), invites you to sign up for the The Renewable Energy Initiative. This initiative is designed to help thousands of Bahamian businesses save money on electricity and fuel costs.
Do you know what the average business in your industry spends on electricity costs? Not knowing could mean your business is at a competitive disadvantage because of higher energy costs and lower profit margins.
Calculate your energy efficiency score by completing the survey by February 14, 2023 – click here.
Access funding for solar panels, LED lighting, building insulation and electric vehicles by completing the application form – click here.
For more information, please contact the SBDC at:
Telephone (242) 461-7232 or Email: helpdesk@sbdcbahamas.com
Click here to download the flyer.