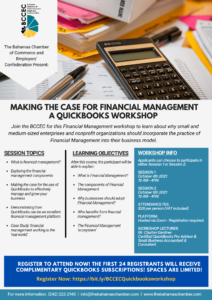 Making The Case for Financial Management: A QuickBooks Workshop to be held virtually 4-5 October 2021.
Join the BCCEC for this Financial Management workshop to learn about why small and medium-sized enterprises and nonprofit organizations should incorporate the practice of Financial Management into their business model. Click here to download the flyer.
Workshop Information
Applicants can choose to participate in either Session 1 or Session 2:
Session 1
Date: October 4th 2021
Time: 10 AM – 4 PM
Session 2
Date: October 5th 2021
Time: 10 AM – 4 PM
Attendance Fee: $28 per person (VAT included)
Platform: Hosted via Zoom – Registration required.
Workshop Lecturer: Mr. Clayton Gardiner – Certified QuickBooks Pro Advisor & Small Business Accountant & Consultant
Learning Objectives
After this course, the participant will be able to explain:
What is Financial Management?
The components of Financial Management
Why businesses should adopt Financial Management?
Who benefits from financial management?
The Financial Management 'ecosystem'
Payments can be made via Credit Card Authorization form or Direct Deposit. Please send payment confirmation to info@thebahamaschamber.com to secure your registration.
Direct Deposit:
BSD Funds Bank: RBC Royal Bank (Bahamas) Limited
Branch: 05625
Account: 1094317
Beneficiary: Bahamas Chamber of Commerce
REGISTER TO ATTEND NOW! THE FIRST 24 REGISTRANTS WILL RECEIVE COMPLIMENTARY QUICKBOOKS SUBSCRIPTIONS!
SPACES ARE LIMITED!