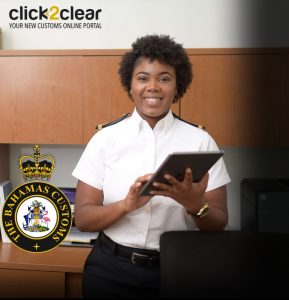 Click2Clear (formerly the Bahamas Electronic Single Window) is a new initiative implemented by The Bahamas Government to facilitate one access point for traders and businesses within The Bahamas that is connected to various government agencies.  This new initiative will replace the current EDI system being used to submit and clear declarations. The system will allow certain processes within the Customs Department that normally took two to three hours to complete, to be completed within a few minutes, thus making trade in the Bahamas much easier.  To access the new system one must first register online at https://www.besw.gov.bs/TFBSEW/registration/registrationPage.jsp
Click2Clear is a system for the Import and Export of Cargo Only. This does not include baggage claim after returning from vacation or travel abroad. For instance, ordering online either by air or sea for companies like MailBoat, FedEx, ZipX, DHL etc…
The following information is required for registration for companies –
Certificate of Registration (TIN)
Compliance certificate
Current Business License
Broker License
Identification
List of clientele
The soft launch took place in August, 2018 beginning with Air Cargo Manifests.  The full launch will include but not be limited to:
Sea Manifests – this includes adding/uploading master Manifests,
Adding or uploading supplementary Manifests
Submitting Declarations
Temporary Import /Export Requests
Refunds
Warehousing
Cargo Movement Requests
Online Payment Methods
This launch is pending and is scheduled to be launched later in the year 2019.
Click2Clear (C2C) is equipped with a robust risk module, which allows C2C to instantaneously check a declaration submitted into it. In an effort to modernize the Department, our focus will change to post entry checking rather than pre entry checking which is centered around trade facilitation.
The Government of the Bahamas with the assistance of the Inter-American Bank (IADB or IDB) is implementing a trade sector support program.  The overall objective of the program is to improve the operational efficiency of the Customs and Excise Department (CED) and to prepare the Government of the Bahamas for accession to the World Trade Organization.
The program is divided into three components:
Strengthening the Customs Management through modernizing the organizational structure and our human resources capabilities.
Modernizing Customs Operations – hence the establishment of the Click2Clear interface.
Enhancement of International Trade Institutional Platform which is being Component 2 the single largest component of the program, contains 4 areas of activity

Business Process re-engineering
Customs Automated Management System
Strengthening border control and security
Trade Facilitation
There are stakeholders connected to the C2C; Stakeholders are the persons who have interest or concerns in the business of the Customs Department.  This would include all concerned citizens and all businesses within The Commonwealth of The Bahamas. More specifically, our Stakeholders include:
Shipping Companies
All Shipping agents
Couriers
Intermediary companies
Airlines
Airline Agents
Brokers
Importers
Governmental Agencies
Retail Business owners
Wholesale Companies
Exporters
Agents
Residents
PROCEDURES
How to Register with  Click2Clear
REGISTRATION REQUIREMENTS
Have further questions?
Visit our FAQ's Page – Frequently Asked Questions
Source: The Bahamas Customs & Excise Department
Click here for more information on Click2Clear (formerly the Bahamas Electronic Single Window)