WTO Panel to discuss the outcome of The Bahamas' Vulnerability Study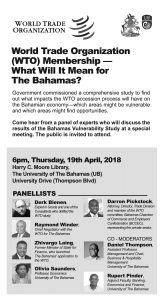 The panel discussion is being hosted by the Ministry of Financial Service, Trade and Industry, and Immigration in collaboration with the University of The Bahamas.
The session will reveal the results of a comprehensive Government-commissioned study – a Vulnerability Study – to assess the impacts that the WTO accession process may have on the Bahamian economy. The study sought to identify which sectors of the economy might be vulnerable, and which areas might find opportunities.
The Panel discussion will be held on Thursday, 19th April 2018 at 6:00 pm at the Harry C. Moore Library of the University of The Bahamas.