Strength | Strategy | Success: Your Toolkit to Sustainability!
Being a woman entrepreneur (especially in the start-up phase) can mean long hours, late nights, and nobody to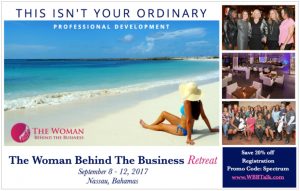 talk to! Add on your responsibilities as wife, mother, daughter, sister, or any other role…and you can end up one stressed out momma!
Join the women of "The Woman Behind The Business" in Nassau, Bahamas for 5-days of exploratory professional development! What does that mean? You'll experience dynamic workshops, engaging networking, and memorable activities for women entrepreneurs of all levels!
Session Topics Include:
Are Your Dollars Making Sense
Taking A Seat At The Table
Mind Your Business
Speak w/Confidence, Act w/Grace
For More Information: The Woman Behind The Business Retreat Event Page