The Bahamas National Trust (BNT) will host its annual Wine + Art Festival on Saturday, October 28th and Sunday, October 29th from 12 noon – 7 pm.
The Festival celebrates its 27th year
Celebrating this long-standing cultural event, the 27th year of the festival esteems to grow its network and fortify itself as the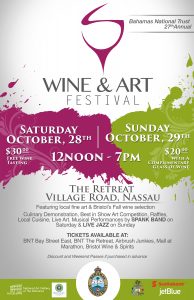 premier arts festival sustaining the local creatives, artisans, musicians, culinary artists, and craftspeople of The Bahamas.
Where:
The Retreat
Village Road, Nassau
This year it will feature local fine art & Bristol's Fall wine selection. Culinary Demonstration, Kids Corner, Best in Show Art Competition, Raffles, Local Cuisine, Live Art, Musical Performances.
There are several ticket locations for your convenience
Tickets are available at:
BNT Bay Street East, BNT The Retreat, Airbrush Junkies, Mall At Marathon and Bristol Wine & Spirits.
Discount and Weekend Passes available if purchased in advance.
Affordable entry fees
Price:
$30.00 on Saturday, October 28th
includes Free Wine Tasting
$20.00 on Sunday, October 29th
includes a complimentary Glass of Wine