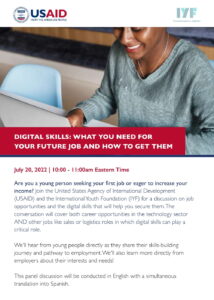 Join the upcoming USAID/International Youth Foundation (IYF) webinar on Wednesday, July 20th from 10am – 11am.
The webinar is aimed at assisting young jobseekers with their digital skills. It is expected to focus on career opportunities in the technology sector and other jobs/roles in which digital skills can play a critical role.
Registration can be accessed here>> REGISTER NOW!
You'll hear from young people directly as they share their skills-building journey and pathway to employment. We'll also learn more directly from employers about their interests and needs!
This panel discussion will be conducted in English with a simultaneous translation into Spanish.