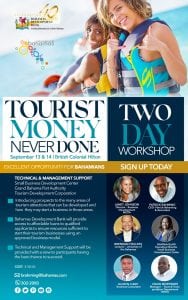 The Ministry of Tourism will host a two-day workshop, Tourist Money Never Done, for entrepreneurs on Thursday, September 13th and Friday, September 14th from 9am-5pm at the British Colonial Hilton.
The workshop will introduce participants to the many areas of tourist attractions that can be developed and how they may start businesses in those areas. The Bahamas Development Bank will provide access to loans to qualified applicants to secure resources sufficient to start their tourism businesses using an approved business model.
Click here for a registration form. Cost: $100
To register email: brahming@bahamas.com or call 302-2000.