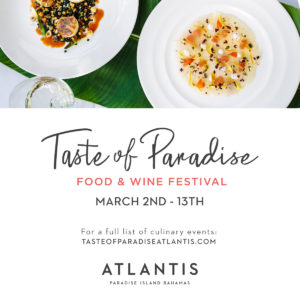 The Taste of Paradise Food & Wine Festival will be held from 2-13 March, 2022 at Atlantis on Paradise Island, Bahamas.
A Culinary Celebration
A celebration of food and beverage; prepared with the freshest seasonal ingredients, and an innovative eye.​
Experience the warmth of The Bahamas through food with a two-week slate of special prix fixe menus and specialty dishes
prepared by the chefs of Atlantis' most well-known restaurants.
Click here for more information>>
https://www.atlantisbahamas.com/taste-of-paradise