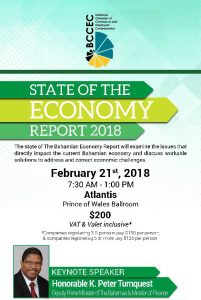 The Bahamas Chamber of Commerce and Employers' Confederation will hold its second annual State of Economy Report Forum on Wednesday, February 21st, 2018 from 7:30 am – 1:00 pm at the Atlantis Paradise Island Resort under the theme "Road to Recovery – Overcoming Economic Challenges (How do we fix the problems).
The Forum examines issues that impact the Bahamian economy
Established in 2017 by the Bahamas Chamber of Commerce and Employers' Confederation, The State of The Economy Report is a forum designed to examine and discuss issues that directly impact upon the current Bahamian economic environment, while finding ways or workable solutions to address and correct challenges in the economy. The objectives of State are to grow the economy through fiscal prudence and economic planning, sound investment policies, diversification, and the introduction of new industries and development of the workforce.
The Deputy Prime Minister will give the keynote address
The Hon. K. Peter Turnquest, Deputy Prime Minister and Minister of Finance will give the keynote address. Other speakers include Mr. John Rolle, Governor of the Central Bank of The Bahamas; Ambassador Aubyn Hill, Deputy President of the Jamaican Senate/CEO Economic Growth Council; Joana Nasr, Private Sector Development Specialist; Allan Wright, Chief Economist at the Inter-American Development Bank; and Raymond Winder, Chairman of the Bahamas Trade Commission.
To register for the event follow this link: https://kv247.infusionsoft.com/app/page/8e20a8965e740d457ede9bbb9195783b?inf_contact_key=0d4ccad82500b23cbaad2a07ab2e24b9cb595cd29b3e3ad435c93b34430ae249