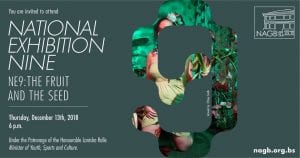 The 9th National Exhibition (NE9) supporting the work of over 30 Bahamian artists, will open under the title "The Fruit & the Seed" on Thursday, December 13th, 2018 at 6 p.m.
The night will be filled with festivities, entertainment and celebrations, honouring the evolution of Bahamian contemporary art with socially unique projects that enliven conversion and rekindle the fire of the telling of our stories.
The event is free and open to the public and will feature seasonal entertainment and refreshments.