The LJM Maritime Academy, the premier tertiary-level maritime institute of The Bahamas, is hosting its first maritime conference, Maritime Conference Bahamas 2017 on October 18th – 20th, 2017, at the Meliá Nassau Beach Resort, Cable Beach.
Three-day international conference
The three-day international conference will be held under the theme "Connecting Education, Ports & People". LJM Maritime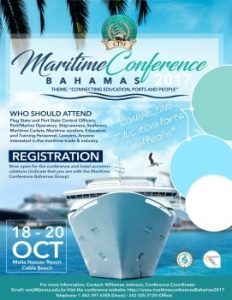 Academy will host Maritime Conference Bahamas 2017 in conjunction with multiple local and international corporate sponsors, including Arawak Port Development Ltd, Bluewater Management & Crew Training USA, Insurance Management, SUNY Maritime College and the Ministry of Tourism.
The conference is expected to attract 200 – 250 delegates, locally and from places like the United States, Canada, the Caribbean, Europe, and India. Delegates to the October conference will include professionals from the maritime industry, officials of Flag State Administrations, maritime education and training providers, port operators, maritime suppliers, academicians from universities, maritime lawyers, adjudicators, and other entities wishing to explore regional and global maritime issues. Invitations have also been extended to cadets of local maritime training programs and maritime institutes from around the world.
The conference official opening ceremony will be held on October 18th, at the Meliá, with the keynote address by Dr. Cleopatra Doumbia-Henry, President of World Maritime University, Sweden. Day two and three of the conference (October 19th and 20th) will feature a format comprised of plenary sessions, concurrent break-out sessions, and sessions designed for maritime cadets. A slate of some sixteen wide-ranging topics will be discussed during sessions, including global trends in port development, best practices for high performance port operations, Port and Maritime Safety and Security, women in the maritime industry, skills requirements for manpower in the ports, Maritime Business – Why The Bahamas and the Blueprint of Success for young men and women in the Maritime Industry.
For more information on Maritime Conference Bahamas, 2017, visit the conference website at http://www.maritimeconferencebahamas.com/