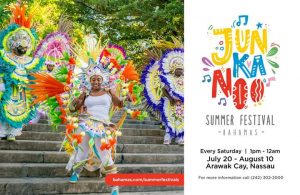 Junkanoo Summer Festival is a four-week event taking place every Saturday between July 20th-August 10th from 1:00 pm to 1:00 am on the Arawak Cay Grounds in Nassau.
The event  celebrates the music, food, culture, and art that are indigenous to The Islands Of The Bahamas. The major Junkanoo groups will leave their shacks and head to Arawak Cay for a fun-filled parade. Groups and spectators alike will share in the fun and the spirit of Junkanoo!
There will be (21) food vendors each week, (10) arts and craft vendors and demonstrators; chef demonstrators and several Kiddie Corner vendors. Junkanoo Groups include Fancy Dancers, Music Makers, Roots, One Family, Colours, The Original Congos, Valley Boys, Saxons, Body of Christ and Conquerors For Christ and more!
Musical Performances to be provided by: Shadow Band; Sweet Emily; Synergy Band; All for One band; Blue Connections Band; Sky Juice Band; Grove Quest Band; Nehemiah Hield; Fanshawn; Lady E; Patrick Carey; Gaiwin Clarke; Sweet Emily; Synergy Band; Q-Pid; Rhythm and Youth Band; Royal Bahamas Police Force Band; K.B; Geno D; and Keisha Poitier.
For more information contact: Bahamas Ministry of Tourism; Tel: (242) 302-2000; E-mail: tourism@bahamas.com.