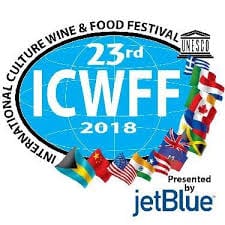 The 23rd Annual International Culture Wine & Food Festival is slated for Saturday, October 13th and Sunday, October 14th, 2018 from 10 am to 6 pm at the Botanical Gardens, Nassau.
Under the auspices of the Ministry of Foreign Affairs, the Festival fosters friendly relations and understanding between Bahamians and the international resident community. This high-quality organic experience, that emerged from members of the community, has become an international signature event, that serves to demonstrate just how diverse and cosmopolitan The Bahamas has become.
The Festival also provides a global platform for the Ministry of Foreign Affairs to encourage foreign countries to consider staging food and cultural weeks as well as host more trade missions to The Bahamas. Strategically, this makes The Bahamas a far more interesting and sophisticated place to live and visit by broadening and deepening the vacation experience and quality of life that is available here.
For more information: http://www.culturefestbahamas.com/