Under the 2017 Business Outlook theme, "Breaking Barriers: Promoting Success", the Exuma Business Outlook (EBO) is scheduled to take place Thursday, October 19, 2017, at Sandals Emerald Bay Resort on Exuma.
10th Annual Exuma Business Outlook on the Way
I. Chester Cooper, MP for Exuma & Ragged Island will deliver the keynote on the topic "Business Development". Among the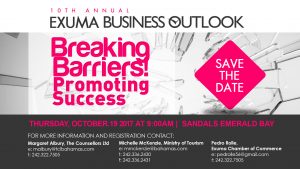 highlights of the programme, will be the new Outlook emphasis on technology and training in Social Media marketing.
With Pedro Rolle, President, Exuma Chamber of Commerce, moderating, the others addressing the forum will include Emmett Saunders, Exuma Chamber of Commerce & Ministry of Tourism & Aviation, bringing opening remarks; Joy Jibrilu, Director General, Ministry Of Tourism & Aviation—"Tourism"; Dr Pandora Johnson, Strategic Partnership and Liaison Officer, Office of The Provost, University Of The Bahamas—"University Of The Bahamas Expansion Plans For Exuma"; Kristie Powell, Senior Technical Account Manager at Google, Inc—"How Technology Can Break Barriers To Success"; Gravette Brown, Chief Aliv Business Developer—"Telecommunications", and Todd M J Beneby, Scotia Bank I Managing Director's Office—"Small Business".
Following lunch will be the Social Media Workshop, conducted by Kimberly Castellanos, Social Media Coordinator, Tambourine, and sponsored by Bahamas Out Island Promotion Board.
Interested persons can register at tclevents.com; in Exuma with either Michelle McKenzie at The Ministry of Tourism via Telephone: 242-336-2430 or 242-336-2431; Email: mmckenzie@bahamas.com or Pedro Rolle of the Exuma Chamber of Commerce via phone at 242-322-7505 or Email:pedrorolle56@gmail.com.
Registrants can also contact Margaret Albury of The Counsellors Limited in New Providence at Telephone: 242-322-7505 or Email: malbury@tclbahamas.com.
For more information about this event visit http://tclevents.com/