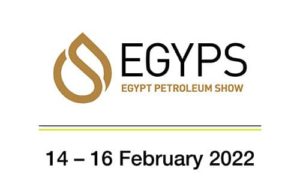 The Egypt Petroleum Show (EGYPS) is Egypt, North Africa and the Mediterranean's leading oil, gas and energy Exhibition and Conference. It will be taking place in Cairo from 14-16 February 2022
With the patronage and attendance of His Excellency Abdel Fattah El Sisi, President of the Arab Republic of Egypt, EGYPS is the region's meeting place where business is conducted, relationships are developed and oil & and professionals network and share their industry knowledge and expertise.
With Egypt officially announced as the hosts of COP27, the Egypt Petroleum Show convenes at a critical time in the industry's ongoing recovery and transition.
EGYPS 2020 hosted 438 exhibitors from 80 countries and welcomed 30,369 attendees over 3 days.  As we approach 2022, we look forward to connecting the international energy community in Cairo and to welcoming you to the 5th Anniversary edition of the Egypt Petroleum Show.
For more information: https://bit.ly/3ruHWkn