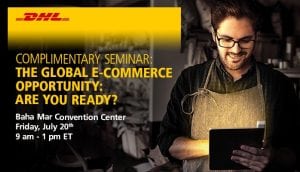 DHL will host a complimentary E-Commerce Seminar on Friday, July 20th from 9 am – 1 pm at the Baha Mar Convention Center.
This event will help business owners understand the basic considerations and product offerings available to start an E-Commerce business.

Speakers will cover topics ranging from Payments to Logistics.  There will also be testimonials from local start-ups.