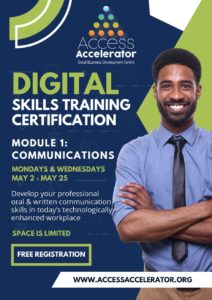 The Access Accelerator is excited to announce its Digital Skills Training Certification programme. This six-module training will span across several months, providing businesses with a variety of tools to enhance their digital competency as entrepreneurs.
The first module is communications
This module is designed to help learners build the proficiency needed to succeed in today's technologically enhanced workplace by focusing on the development of professional oral and written communication skills.
Module 1: Communications
Virtual Training Sessions
May 2nd – May 25th, 2022 • Every Monday & Wednesday
6:00 PM –  9:00 PM
Training Dates:
Session 1: Monday, May 2nd                    Session 5: Monday, May 16th
Session 2: Wednesday, May 4th               Session 6: Wednesday, May 18th
Session 3: Monday, May 9th                     Session 7: Monday, May 23rd
Session 4: Wednesday, May 11th             Session 8: Wednesday, May 25th
Kindly consider the time commitment necessary for the successful completion of this virtual training as attendance is mandatory.
At the conclusion of the course, each attendee must complete a post-training assessment. Once all requirements met, the participant will receive an official Access Accelerator Certificate of Completion for the training module.
Registration for this training is FREE. However, space is limited and will be granted on a first-come-first-serve basis. Cick here to register.
Click here to download the flyer.