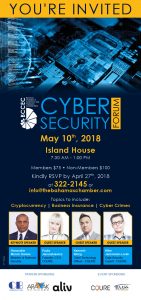 The Bahamas Chamber of Commerce and Employer's Confederation will host a Cyber Security Forum in Nassau on Thursday, May 10th.
Cyber threats and security breaches have no borders and are no respect of persons, corporate or individual. Because of the aggressive nature of the Cyber Security risks, our response must be equally as aggressive to safeguard the safety and integrity of our cyber systems.
In keeping with the Chamber's proud legacy of providing its members as well as the greater private sector with solutions to some of the country's most salient issues and perhaps most importantly, the advantage of learning from some of the country's greatest minds, it has created a platform for discussions on these issues via a Cyber Security Forum which will take place on Thursday, May 10th, 2018 at The Island House, Mahogany Hill from 7:30 a.m. – 1:00 p.m.  The Chamber believes that the information provided in this forum would be quite beneficial to organizations as its goal is to assist with the fight on cybercrime.
Please click on the link below to register if you would like to attend: https://kv247.infusionsoft.com/app/page/cybersecurityforum2018
Please note that space is limited, therefore, the Chamber advises you to register and confirm your space as soon as possible.