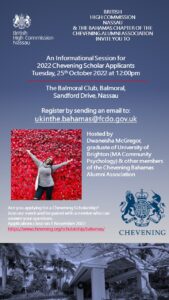 Join the British High Commission Nassau and The Bahamas Chapter of the Chevening Alumni Association on 25 October 2022 at 12:00pm for an in person information session on the UK's fully-funded Chevening Scholarship.
This event will be hosted by Dwaneisha McGregor, graduate of University of Brighton (MA Community Psychology) and other Chevening Alumni from The Bahamas.
To register for this in person event, please send an email to: ukinthe.bahamas@fcdo.gov.uk
The application period for Chevening scholarships is now open and closes on 1 November, 2022. Apply here: https://www.chevening.org/scholarship/
Click here to download the event flyer.
Click here to download an informational pamphlet.
Click here for the FAQs.