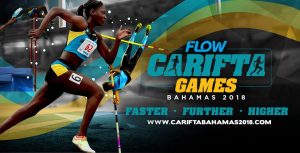 The Bahamas will host the CARIFTA Games for the eighth (8th) time on March 30th to April 2nd, 2018. The Games will bring together some 500 athletes and 150 team officials from 26 countries, all among the best track and field athletes in the Caribbean.
The CARIFTA Games is an annual athletics competition founded by the Caribbean Free Trade Association (CARIFTA). In 1972, Austin Sealy, then president of the Amateur Athletic Association of Barbados, inaugurated the CARIFTA Games to mark the transition from the Caribbean Free Trade Association (CARIFTA) to the Caribbean Community (CARICOM). CARIFTA was meant to enhance relations between the English-speaking countries of the Caribbean after the dissolution of the West Indies Federation, but the CARIFTA Games took that idea a step further, including the French and Dutch Antilles in an annual junior track and field championship competition.
The CARIFTA Games is anticipated to be a stunning performance of athletics by young Caribbean athletes from all across the region. The event boasts of three days of the best junior competition ever experienced and promises to be the most exciting display of talent for 2018.
Come out to cheer on your favorite athletes and wave your flag in the crowd battles that promise to be as fierce as the battles on the track and field! This event will be the showdown of the year. You don't want to miss it!
For more information visit: http://cariftabahamas2018.com/