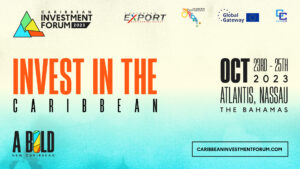 The Caribbean Investment Forum is the marketplace and nerve center for sharing, learning, preparing and finalizing business and investment deals that support the regional transformation to A Bold New Caribbean.
Championed by the Caribbean Export Development Agency and its partners to accelerate the closure of the Caribbean's investment gaps, and ultimately transform the region's economy, CIF is where attendees will explore:
Global Networking: Connect with over 1000 international and regional delegates, fostering invaluable connections across industries.
Investment Showcase: Delve into the forefront of Agricultural Technology (AgTech), Logistics and Transport, Information Communications Technology (ICT), and Renewable Energy sectors, where innovative opportunities abound.
Engaging Sessions: Immerse yourself in high-level keynotes, interactive discussions, and visionary conversations that are set to shape the future of Caribbean trade and investment.
Dynamic Atmosphere: Experience the electric ambiance of investment villages, plenaries, and exclusive business mixers, all designed to maximize engagement and collaboration.
Visit https://www.caribbeaninvestmentforum.com/ to reserve your spot and claim early-bird discounts.