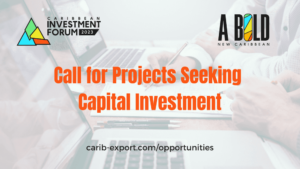 The Caribbean Export Development Agency invites businesses and projects that are seeking capital investment, to present projects at the upcoming Caribbean Investment Forum from October 23-25, 2023, in Nassau, Bahamas.
Do you have a large project with national or regional reach that needs capital investment over US$1mn within any of the following sectors?

Agricultural Technology (AgTech)
Logistics and Transport
Information Communications Technology (ICT)
Renewable Energy

Are you a Small or Medium-sized Enterprise (SME) seeking access to financing of at least US$500,000 to implement projects that fall within any of the above-named sectors?
Is your business or project located within a CARIFORUM* member state?
Would you like support in finding investors?
Would you like support to develop your project to make it more attractive to investors?
If you've answered yes to any of these questions, they are interested in hearing from you.
Click here to learn more.
To be considered for this opportunity, please complete the project profile no later than Friday August 11, 2023. Kindly note that projects will be considered in the order received.