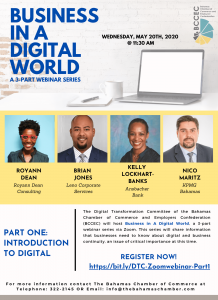 The Digital Transformation Committee of the Bahamas Chamber of Commerce and Employers Confederation (BCCEC) will host Business in a Digital World, a 3-part webinar series via Zoom.
This series will share information that businesses need to know about digital and business continuity, an issue of critical importance at this time. Kindly see details below:
Webinar Part One: Introduction to Digital
Date and Time: Wednesday, May 20th, 2020 @ 11:30 AM
Key Presenters: Royann Dean, Brian Jones, Kelly Lockhart-Banks and Nico Maritz
Part Two (Cyber Security) of the Webinar will be held on Wednesday, May 27th at 11:30 am and Part Three (Online Payments) will be held on Wednesday, June 3rd at 11:30 am.
Follow this link to register: Part Two – Business in A Digital World Webinar (Cyber Security), Part Three – Business in A Digital World (Online Payments)