Bahamas Investment and Manufacturing Solutions (BIMS) will be hosting its first one-day intensive conference for the industry on Friday, October 20 at the British Colonial Hilton Hotel on New Providence. The action-packed day begins at 8 am with registration and activities to run from 9 am – 5 pm inclusive of a continental breakfast and buffet lunch.
Attendees will be given a roadmap for success
Fuelled by a desire to aide local manufacturers to excel in their respective fields, the company developed the one-day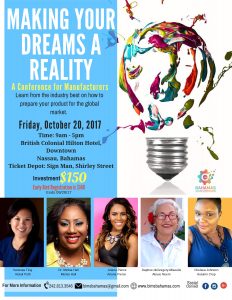 conference as a way to give Bahamian manufacturers a fighting chance in the international and local arena. Bahamian manufacturers will get the ultimate leg up on their global competitors.
Aspiring manufacturers will also learn how to get their products into the local, regional and international markets
The manufacturer's conference will be the first of its kind in The Bahamas and is set to arm aspiring manufacturers with the relevant information to help them get their locally produced goods not only to the local market but regional and international ones as well.
The event will provide crucial insight into breaking into the international manufacturing arena while teaching attendees how to:
Get into the mind of a retail buyer and exactly how buyers select products and vendors
What every retail pitch should contain
Build a Strategic Retailer Roadmap
How to get a meeting with a prospective buyer and properly follow up
How to properly overlay an Online/Direct to Consumer Sales Strategy with Brick and Mortar Sales Strategy
How to build a proper Brand and Marketing Strategy for Retail Success inclusive of packaging
How to effectively use Social Media to successfully sell their products
How to safeguard your product for export, including copyright, trademarks, etc.
How to Fund your Business
How to enhance the quality of your product to coincide with national and international standards and much more
The program contains a line-up of expert speakers
On tap as guest speakers for the event include, Lead and Growth Strategist, Vanessa Ting, who is a former retail buyer for Target and marketer for Neutrogena; Adriana Pierce, a Fashion Entrepreneur, Social Media Expert and CEO of Superstar Nail Lacquer; Zhivargo Laing, former Minister of State for Finance and Economist; Dr. Melisa Hall, a Certified International Coach, Financial Planner, Author and Attorney; Daphne deGregory-Miaoulis, owner of Abaco Neem Limited and Chelsea Johnson, designer and CEO of Autumn Crop and Creative Business Coach.
Another highlight of the mini-conference is what organizers are calling 'Pitch IT' – a mock retail buyer segment where entrepreneurs will get real-time evaluations of their product and just how successful it will be on the market.
For more information about the Bahamas Investment and Manufacturers Solutions Conference, visit www.bimsbahamas.com.