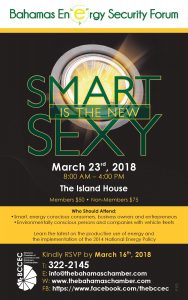 The Bahamas Chamber of Commerce and Employers' Confederation (BCCEC) hosts its annual Energy Security Forum at the Island House Conference Center, on March 23, from 8 a.m. to 4 p.m.
Minister of the Environment and Housing Romauld Ferreira will deliver the keynote presentation, and other speakers will include stakeholders from the University of The Bahamas, the Office of the Prime Minister, the Utilities Regulation and Competition Authority (URCA) and visiting representatives of the government of Canada.
Bahamian private sector business owners, partners, and managers are also slated to speak on topics important to the overall discourse on energy in The Bahamas, such as reducing the carbon footprint and smart energy technology, as they relate to the 2014 National Energy Policy.
The Energy Forum started in 2014 by the BCCEC Energy and Environment Committee, allows a "platform for discussion of ideas, policies, and initiatives to improve the state of energy in The Bahamas".
A case study of Ragged Island – designing, planning and building a smart environment, along with its related processes and benefits – will be examined, as well as the potential for public-private partnerships, the need for urban innovation, the necessity of disaster management and the importance of access to funding for smart living.
All professionals and policymakers in The Bahamas with concerns about traditional and alternative/renewable energy resources, energy costs and the smart and sustainable use of power, should seek to contribute to and gain knowledge from the discussions presented at the forum.