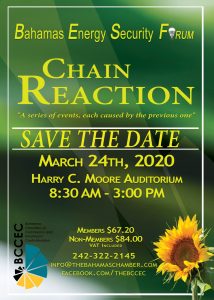 The Bahamas Chamber of Commerce and Employers' Confederation (BCCEC) will host its annual Energy Security Forum at the Harry C. Moore Auditorium (University of The Bahamas), on March 24th, from 8:30 a.m. to 3 p.m.
The Energy Forum started in 2014 by the BCCEC Energy and Environment Committee, allows a "platform for discussion of ideas, policies, and initiatives to improve the state of energy in The Bahamas".
All professionals and policymakers in The Bahamas with concerns about traditional and alternative/renewable energy resources, energy costs and the smart and sustainable use of power, should seek to contribute to and gain knowledge from the discussions presented at the forum.
Follow this link to register: https://pmcwgacw.pages.infusionsoft.net/