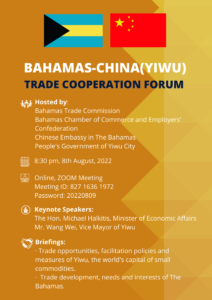 This year marks the 25th anniversary of the establishment of diplomatic relations between The Bahamas and China. In the interest of building a platform of cooperation between the Bahamian business community and China, the Bahamas Chamber of Commerce and Employers' Confederation supports the Bahamas-China (Yiwu) Virtual Trade Cooperation Forum scheduled for Monday, 8 August 2022 at 8:30 pm via Zoom.
Yiwu city of Zhejiang province is widely known as the capital of small commodities in the world, and maintains close trade relations with more than 230 countries and regions. Yiwu International Small Commodities Fair, well-known as Yiwu Fair, enjoys a worldwide reputation, attracting more than 200,000 professional visitors and tens of thousands of purchasers from all over the world every year. Millions of people also participate in the Fair online. There's much economic complementarity to be tapped between The Bahamas and Yiwu.
The Forum will be attended online by representatives of government departments, companies and media of both sides. There will also be opportunities for Q & A and direct exchanges between companies of both sides. The meeting is expected to be attended by around 300 people.
Keynote Speakers for the event are Senator Hon. Michael Halkitis, Minister of Economic Affairs, and Mr. Wang Wei, Vice Mayor of Yiwu.
Meeting information: Meeting ID: 827 1636 1972. Password: 20220809.
Click here to download the event's flyer.