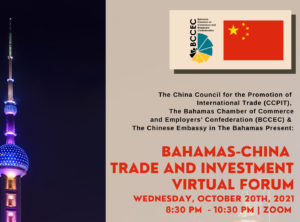 In order to strengthen the economic and trade links and cooperation between China and The Bahamas, China Council for the Promotion of International Trade (CCPIT), Bahamas Chamber of Commerce and Employers' Confederation (BCCEC) and the Chinese Embassy in The Bahamas will co-host an Online Bahamas-China Trade and Investment Forum at 8:30 pm-10:30 pm (EDT) on Wednesday, October 20th, 2021.
Join us as representatives from the Bahamian and Chinese governments and representatives from the business community discuss trade and investment opportunities between The Bahamas and China, along with preferential policies and key industry promotion. The Bahamian private and public sectors are invited to register to attend the virtual Forum.
To attend, RSVP now by clicking here.  
RSVP Deadline is Monday October 18th, 2021
In conjunction with the Trade and Investment Forum, a Business To Business Matchmaking Virtual Forum will be held on Thursday, October 21st, 2021 at 8:30 am – 10: 30 am (EDT). This forum is a great opportunity for local businesses to meet, exchange information, explore potential investment and trade opportunities and create business partnerships with Chinese businesses.
Featured Business Sectors:
Group 1: General Trade
Group 2: Renewable Energy
Group 3: Financial Services
Group 4: Tourism
Group 5: Agriculture
To attend:
Enter your information on the RSVP page and choose the subgroup that best describes your business;
Fill out the B2B business profile form and email to info@thebahamaschamber.com;
Come prepared to meet and speak with Chinese investors and business representatives to explore potential investment and trade opportunities;
RSVP Deadline is Monday October 18th, 2021