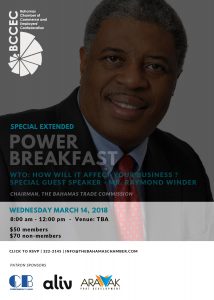 The Bahamas Chamber of Commerce and Employer's Confederation (BCCEC) will host its second Power Breakfast for the year on Wednesday, March 14th from 8 am – 12 pm. 
Mr. Raymond Winder, Chairman of the Bahamas Trade Commission, will be the special guest speaker. The theme for the session is "WTO: How will it Affect Your Business?"
Nassau's leading networking event
The Chamber's "Power Breakfasts" are planned throughout the year and typically occur on the second Wednesday of each month from 8:00 am to 10:00 am monthly (except for the month of August). Each breakfast addresses a prominent issue or addresses a relevant topic.
Registration begins at 7:30 am. $50 members | $70 non-members. Valet is not included.
Details are subject to change at the Chamber's discretion.