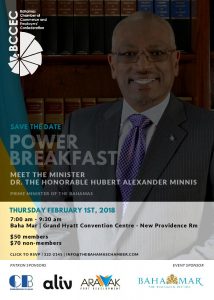 The Bahamas Chamber of Commerce and Employer's Confederation (BCCEC) will host its first Power Breakfast for the year at the Baha Mar Resort on Thursday, February 1st from 7 am – 9:30 am.
Dr. The Honourable Hubert A. Minnis, Prime Minister of the Commonwealth of the Bahamas, will be headlining the event. The Prime Minister intends to discuss the 2018 objectives of the Bahamian Government with the private sector. The BCCEC will also present the official report of the 2017 National Conclave of the Chambers of Commerce as well as a brief report from each BCCEC division discussing 2018 objectives and initiatives.
The BCCEC serves as the premier employers' and business organization in the Bahamas by developing, promoting and protecting trade activity as well as the interests of employers on all social and labour policy issues within the context of true tripartism, in national, regional and international forums.
Nassau's leading networking event
The Chamber's "Power Breakfasts" are planned throughout the year and typically occur on the second Wednesday of each month from 8:00 am to 10:00 am monthly (except for the month of August). Each breakfast addresses a prominent issue or addresses a relevant topic.
Registration begins at 7:30 am. $50 members | $70 non-members. Valet is not included.
Details are subject to change at the Chamber's discretion. You can RSVP for the event here.